Here are some brief guides to buying in some of the more popular destinations for Britons to own a holiday home:

buying abroad rough guide The Baltic States of Estonia, Latvia and Lithuania are located in northeast Europe on the Baltic Sea neighbouring Belarus and Russia.  Since joining the EU in 2004, these states have seen their economies grow at a rapid rate – mainly thanks to the foreign tourism attracted by their picturesque medieval centres of their capitals of Tallinn, Riga and Vilnius respectively.  Another reason for the sudden prosperity in these states has been the opening up of the property market to foreign buyers which in turn has created a flurry of new development and made property prices rise rapidly, although these locations still represent value for money when compared to other European locations.  A one-bedroom apartment in one of the three capitals will cost around £60,000.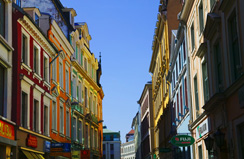 Picturesque Latvia
  (Image courtesy of
channel4.com
)

The buying process is relatively straightforward – make an offer through an estate agent that specialize in selling property in these locations and engage the services of an English-speaking solicitor.  When the offer is accepted, pay a reservation fee (or deposit), then sit back and let them do most of the legwork to justify their fees.  You must pay around 250Euro for a notary to oversee the transaction for the state and the estate agent fee will be around 3% of the property price.  A 2% purchase tax has to be paid before the property can be registered at the land registry and their fees are around 100Euro.
 
Bulgaria

Bulgaria was a country that suffered greatly from under investment during its years of Soviet rule.  The country has been playing catch up in recent years and with the influx of foreign investment and entrance to the EU, property prices have been rising dramatically in recent years.  Despite this Bulgaria is still bargain basement with house prices starting at around £20,000.  The favoured areas for Britons to buy are on the Black sea coast - resorts such as Varna, Sunny Beach and Bourgas.  The other main area of foreign investment being in the mountain ski resorts such as Bansko and Borovets.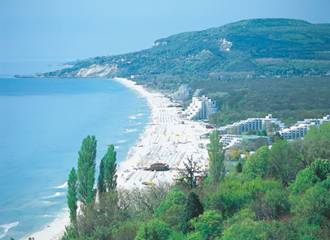 Bulgaria's Sunny Beach resort on the Black Sea
(Image courtesy of
airportdirecttravel.co.uk
)

Since Bulgaria's entry to the EU its government have changed laws to make it easier for foreigners to buy there.  Once an offer has been accepted, you should instruct an English-speaking lawyer to draw up a preliminary contract of sale which will be cemented by putting down a 10% deposit.  Once your lawyer has checked that everything is above board you then need to pay the balance of the purchase price, land tax and notary fees, which will amount to around 5% of the property price.  Typically, estate agent fees are around 6% but in Bulgaria this burden is often shouldered 50/50 by both buyer and seller.  Be sure to clarify this with the vendor at the initial offer stage.  Be sure to ask the agent about VAT; although transactions involving land and lease of property for residential purposes are normally exempt, if chargeable it is levied at a sizeable 20%.
Croatia

More than a decade after the civil war which tore up the former Yugoslavia, Croatia is once more a popular destination for holidaying Britons.  With warm coastal waters and pretty seaside towns on a coast that stretches for 1,000 miles – coupled with a cost of living which is roughly half that of Britain, it's not difficult to see the attraction.  Popular destinations are Dubrovnik in the South, the more central Split and the islands of Hvar and Brac and inland, the capital Zagreb.  Property does not come particularly cheap in Croatia, though, with a one-bedroom apartment starting at around £50,000.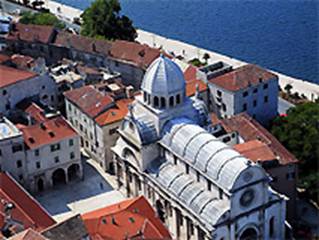 (Picture courtesy of the Croatian National Tourist Board)

Buying in Croatia is relatively straightforward if you are paying in cash but to obtain finance it is necessary to do it through a leasing agreement or to set up a Croatian registered company.  Once the company is set up it is simply a matter of borrowing the money against the business and filtering payments through the company account to the seller.  This will be in the form of two payments, the first of at least 30% and the second the remaining balance.  Buying as an individual is also a two phase operation, by signing a pre-sales contract (and paying a 10% deposit) and then a final-sales contract about six weeks later.  Fees for a notary and lawyer work out at about 1.5% of the purchase price and purchase taxes will cost you a further 5% of the purchase price.
Cyprus

The fifth most popular foreign destination for Britons, Cyprus offers a low tax rate of just 5%, a good cost of living, shopping, high quality private healthcare and of course sun and surf.  The majority of the real estate on offer is from new developments but it is possible to get something a bit more traditional.  Cyprus is not a cheap option though as prices have risen rapidly in recent years; don't expect much change out of £150,000 for a typical two-bedroom apartment.  With EU membership came the opportunity of buy-to-let for foreign investors.  According to local estate agents, two-bedroom properties are the most popular because they are the easiest to sell or let.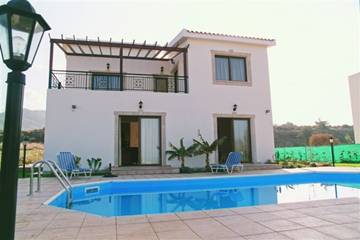 (Image courtesy of
cyprusholidayrentals.net
)
Once an offer is accepted on a property it is normal to put down a reservation deposit of around CY£1,000-CY£2,000 to clinch the deal.  Finding English-speaking estate agents and solicitors is not a problem in Cyprus as the language is very widely spoken – in fact, with the exception of the viewing, you could probably carry out the vast majority of the transaction from the UK.  On signing the contract the buyer pays 20-30% of the property value as a further deposit.  Fees you will pay on purchasing the property include transfer tax and stamp duty.  Transfer tax is payable at 3% on the first CY£50,000, 5% on CY£50,001-CY£100,000 and 8% thereafter.  Stamp duty is levied at CY£1.50 per CY£1,000 for the first CY£100,000 and is CY£2.00 on every CY£1,000 above that figure.

France

A mere 21 miles across the channel, France is the second most popular location for Britons wanting an investment property or second home abroad.  The market has been booming in recent years but on average, prices are still 30% cheaper than in the UK.  Unfortunately, the type of property that Brits are looking for is no longer freely available.  Typically this is a stone character home with two to three bedrooms, pretty garden and in a good location.  This sort of dwelling has been sought after for years and most have already been snapped up.  Areas that are popular at present include the Languedoc region for sea and sun, the Camargue for a typical French lifestyle and the Lot et Garonne region in the central southwest.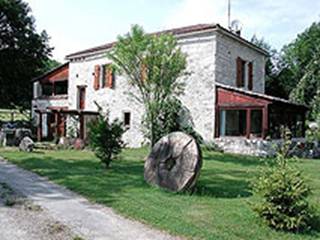 (Image courtesy of
latitudes.co.uk
)

Buying a property in France is a very different process to that in England.  The notary system presides in France, whereby a notary (notaire) carries out the Conveyancing.  A notaire is an impartial public official who is not representative of either vendor or purchaser.  There are basically two stages to buying; the first stage is a preliminary contract, which may be prepared by the notaire or an estate agent.  This preliminary contract is a binding written agreement between buyer and seller which says, you, the buyer, agree to purchase the property subject to certain clauses and conditions.  On signature of the preliminary contract, 10% deposit is payable to the notaire or estate agent.  There is then a formal seven day "cooling off" period in which you, the buyer, have the chance to pull out and cancel the contract.
The second stage of buying in France is the formal deed of sale (acte de vente), which must be prepared by and signed in front of the notaire.  This is the title deed, proving who the owner is and containing a detailed description of the property.  There is normally a 10-12 week gap between signing the two contracts and once the acte de vente is signed and the various fees and taxes paid the sale is formalised with the Land Registry.  You can expect to pay fees between 9-12% of the purchase price, which includes transfer tax, notary and legal fees.  Estate agents in France are allowed to charge the buyer as well as the seller and a fee of 5% is not unusual.
Greece

Since Greece's property laws were relaxed in the early 1990s, the country has been an emerging market for foreign buyers.  Britons tend to prefer to buy on the Greek Islands rather than the mainland with Crete and Rhodes being popular.  You can pick up a wreck for a few thousand in some of the more rural isles but if you want to purchase in the more popular destinations a two-bedroom property will cost at least £50,000.  For an all round rental income, Athens is a good bet.  Property prices have been growing there since the success of the last Olympic games, but be aware that if you wan to let a property in Greece you must have a licence issued by the Greek tourist board (EOT).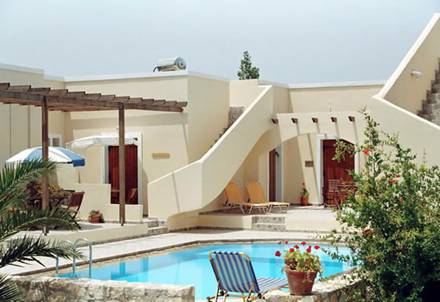 (Image courtesy of
realpointgreece.com
)

Buying property in Greece differs from the UK in that there is no "exchange" and then "completion".  It is also worth noting that a 10% deposit is still not a guarantee of sale – as long as the money is returned, it is perfectly legal for the vendor to change their mind.  The key points to note when buying property in Greece is to use an agent with a track record and to use an English-speaking lawyer who is familiar with the Greek conveyancing process.  Although there is a slight increase in cost, many buyers have a pre-contract drawn up between themselves and the vendor to lessen the chance of the sale falling through.  All purchasing transactions take place in front of a notary who is a public figure working for the government.
New property sales have a VAT rate of 19% and capital gains tax is structured to penalize anyone who intends to sell on the property quickly.  An annual wealth tax is charged on properties over a certain value between 1% and 2%.  As a rule of thumb, add at least 15% to the property purchase price to cover fees and initial taxes.
Italy

With its enduring appeal of regional diversity, food, culture and beautiful countryside, it's not difficult to see why Italy is in the top six foreign locations where Britons buy.  Tuscany is probably the number one destination and, consequently, is far from cheap.  A villa with land in the region will set you back around £400,000.  Umbria is Tuscany's neighbour and a cheaper alternative.  Other up and coming areas include Sicily, Puglia, Le Marche, Abruzzo and Sardinia.  If you're prepared to go off the beaten path it is not impossible to find properties for £20,000.  Buying in the North of the country around the Italian lakes can mean sun in summer and skiing in the winter.  As a general rule of thumb, the further south you go, the cheaper the property gets.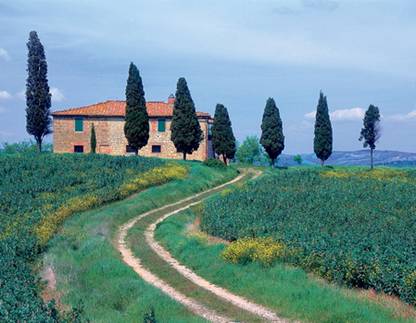 (Image courtesy of
traveldk.com
)

After the initial offer stage a "compromesso" is signed, committing both parties to the sale and establishing the terms and conditions of the final contract.  At this point the deposit is paid (normally around 10%) – note that if you pull out at this stage the deposit is non-refundable.  One to three months later the "rogito", or final contract, is signed is signed in the presence of a notary.  At this juncture the final balance on the property is paid along with notary fees and taxes.  You should budget approximately 15% of the purchase price for all taxes and fees relating to the transaction.
Portugal

The Western half of the Iberian Peninsula has seen property prices grow by 10-15% per annum since the millennium, largely due to the popularity of golf resorts such as Vale do Lobo and Vila Sol, but also because of the relatively cheap cost of living and 300-plus days of sunshine per year.  The Algarve is the place where the Brits buy, but other areas in central and northern Portugal are gaining in popularity; areas such as the Silver and Lisbon coasts.
On finding a property in Portugal that you wish to buy, you must get a solicitor to carry out some initial checks.  These include the legal status of the property and checks on documents such as the title deeds, tax records and habitation licence.  At this point your solicitor should request a fiscal number on your behalf.  Once these checks have been carried out satisfactorily, then a promissory contract can be drawn up by your solicitor.  This contract will include property and payment details as well as information on any special arrangements agreed between buyer and seller.  The agreed deposit (normally around 10%) is payable at this point.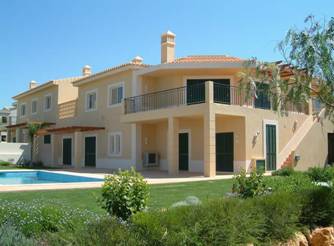 (Picture courtesy of
homesgofast.com
)

The final deeds are signed at the notary's office, normally somewhere between 30 and 60 days after the promissory contract signature.  The remainder of the purchase price is paid at this stage along with notary and land registry fees (around 2% of the purchase price).  Property transfer tax (IMT) is also payable at this point, up to a maximum of 6.5%.  It is also worth noting that thanks to recent changes in tax law, immediate family will not pay any inheritance tax on a property owned in Portugal.

Spain

The Spanish property market has come in for some bad press recently.  First we heard about corruption scandals, demolition threats and land grabs.  Now we're hearing about property nose-diving in value with lots of unsold housing stock sitting empty.  Although official figures say otherwise, depending on the area, house prices have fallen anything between 4% and 20% over the last year.  Add to this the weak pound against the Euro and Spanish property becomes even less tempting to Britons.  However, having said all this, with weak property prices comes the chance to snap up a bargain.  The smart operator who wants their place in the sun will realize that Spain is very much a buyer's market at the moment.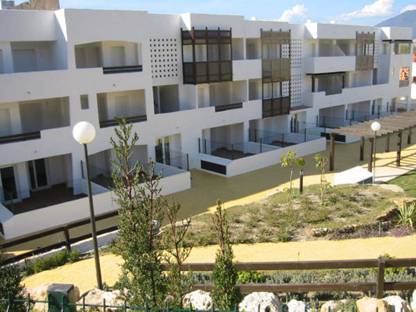 (Image courtesy of
discountspanishproperty.com
)

Buying in Spain differs slightly from a resale property to a new-build.  With a resale property your solicitor will check the "Registro de Propiedad", which denotes who owns the property and if there are any outstanding mortgages on it.  Next you will pay a 10% deposit and sign a reservation contract.  The final contract will be signed in front of an impartial notary when the outstanding balance is paid.  For a new build property you are expected to put down a 25-40% deposit when signing the preliminary contract and the remaining balance will be paid in stages (normally three) as the building progresses with the final one falling due when the property is finished.
Total cost of fees, stamp duty and property tax will come to around 10% of the purchase price.  Mortgages are available from British and Spanish lenders; the set up costs will be higher in Spain, but you may get a better rate of interest.  Generally, loans of up to 80% of the property price are permitted.
Turkey

Located in south-eastern Europe, Turkey offers warm weather, sandy beaches, hospitable hosts and most importantly – cheap property prices.  It boasts some of the best coastline in Europe, especially in the country's south-western corner where the Mediterranean and Aegean Seas meet.  Popular towns in this area include Marmaris, Fetiyhe, Dalyan and Altinkum.  New-build two-bedroom apartments in this area start at around £40,000.  Istanbul, the biggest city in Turkey is already serviced by budget airlines and has become very fashionable with foreigners.  Western-style bars now sit alongside the traditional cafes, for which it is most famous.  Recent change in Turkish mortgage law will also make the country a popular destination for Britons wanting a holiday home.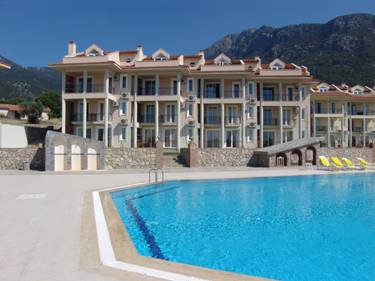 (Image courtesy of
onestopturkishpropertyshop.com
)

There are no restrictions to Britons buying property in coastal resorts or in big cities.  If you wish to buy in country you are restricted to buying 2.5 hectares in size.  It is not always possible to get an English-speaking solicitor in Turkey, so you may have to employ the services of a translator.  Once you have chosen and reserved the property you desire, the initial contract is drawn up and signed by yourself, the solicitor, the vendor and the translator (if applicable).  The solicitor then applies for Aegean Army clearance, which will cost around £150.  You will then go before the notary with your solicitor and translator for the government employee to check that everything is in order.  By giving your solicitor power of attorney you can save on a number of trips to Turkey, as he can sign a lot of the legal documents on your behalf; at a fee of around £120, this is money well spent.  A deposit of 25% within 30 days of signing the initial contract is normal for a new-build property with the remainder due in instalments.
Buyers' tax is chargeable at 1.5% of the property price, estate agent fees will be something similar and allow at least £1,000 for other fees such as solicitor, notary and utility connection.  Rental income is taxed at 20% and should you decide to sell before owning the property for four years you will pay the same percentage in capital gains tax.