Most properties provide potential for improvement and expansion. Whether it be up, down or out; providing the work is done sensibly and to a high enough standard it will improve the value of the property. In general, it is a very simple equation; more square footage equals a greater house price. Before embarking on any home-improving project there are a number of factors to consider:
• The size and shape of the property and its garden
• How much additional space is required
• The size of the project's budget
• Whether the work will add value to the property
Be aware that if the property is listed, or is situated in a conservation area, there may be additional restrictions on the type of works that can take place. If you are unable to extend the house beyond its existing boundaries it may be possible to knock down an internal wall to create more space or partition a room to add a bathroom or study.
Most Popular Extensions

The most popular extension is a conservatory, but extended kitchens with a dining area run a very close second. En suite bathrooms are popular, as are home offices now that more and more people are able to work from home. Adding a loft room can seriously bump up the value of your property and building a garage with a room above it is a winner for properties in cities. Excavating a cellar is a clever way to add space to a home without encroaching on the garden or a neighbour's view.
Planning Permission

Planning permission is not normally needed for minor internal alterations. The best place to check on the level of planning permission needed is the government planning portal website at planningportal.gov.uk. The site gives an overview of how the planning system works; giving you a good idea of how likely the work is to be approved. If you think that there is a good chance that your project will be given the green light, discuss it with the planning officer of your local council to see if permission is likely to be granted.
It is worth noting that even if your neighbour has a loft conversion or some other type of extension that you desire, it doesn't always follow that you will be given the go ahead. Planning regulations change over time, so it really is worth doing your homework to save time and money. If you are refused planning permission you have the right to appeal but it would be very ill advised to press ahead without it. You could be served with an "enforcement notice" forcing the demolition of the work that you've just had done.
Building Regulations

As if it isn't already hard enough, you will also need building regulations approval as well as planning permission for any home conversion or extension. The rules that govern what needs to comply with building regulations can also be viewed at planningportal.gov.uk. Building regulations are essentially the application of health and safety to your home by making sure that any works do not affect the structural integrity of the building, are not a fire risk, are energy efficient and have adequate ventilation.
The subject becomes slightly more complicated when choosing who to give your work building regulations approval. Your local authority will have a building control service that can send round an inspector, or you can do it privately with an approved inspector, such as a chartered surveyor. When employing a builder you need to reach a clear agreement on who is responsible for getting building regulations approval. Some builders are qualified to self-certify and others may do it as part of the service. On completion of the work you must obtain a completion certificate as failure to do so could cause problems if you decide to sell the house.
Conservatories

Conservatories are an ideal way of acquiring more living space without having to move home. In many instances they do not require planning permission and, providing they are well built, will add value to the property. Different local authorities have different rules regarding planning permission but some general rules are as follows:

• Detached and semi-detached houses are allowed to extend by 70 cubic metres without planning permission (50 cubic metres for a terraced house)
• If there is less than 20 metres between the conservatory and the nearest public highway or footpath then planning permission must be sought
• If more than half the garden is being used planning permission applies
• Listed buildings require planning permission

The full criteria are listed on the government's planning portal website, as are details of building regulations. These will not apply to conservatories unless the constructions are particularly large or not transparent.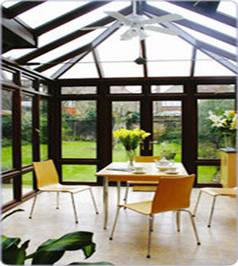 Loft Conversions

More than a million homes in the UK now have loft conversions with the market growing by an estimated 10% each year. Estate agent figures suggest that the average loft conversion costs around a third of the price of moving to a house with an extra room and can increase the value of your property by up to 25%. Not every loft can be turned into a living space and costs will vary greatly, so seek professional advice at an early stage. Planning permission may be needed (especially in a conservation area) and you must adhere to building regulations. Seeking permission from your neighbours is likely if there is a party wall; for more information on party walls go to rics.org/partywalls.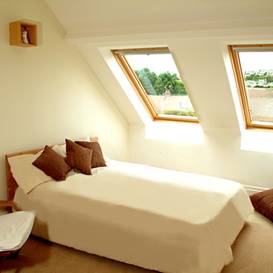 Cellar Conversions

This option normally comes into play if you have no room to extend upwards or outwards, giving an extra floor with little or no change in the external appearance of the house. Cellar conversions are popular for creating a fun or practical space, such as a home cinema, games room, utility room or storage area. The disadvantages of this sort of project is that it can turn out to be complex and can cost up to three times more than a loft conversion; especially when further excavation is required. Be sure to check with a planning officer before pressing ahead to check the practicality of the works and to make sure that all other options have been exhausted.
Choosing a Builder
An extension or conversion of your home that involves structural alterations could not be considered as a DIY project and as such you are going to need to employ the services of a professional builder. When choosing a builder it is advisable to get at least three detailed quotes and, if possible, a personal recommendation. Checking up on the quality of past projects is also a good method of ensuring that you get the right one. Questions to ask any prospective builder will include:

• Terms of payment; will he be expected to be paid on completion or in stages?
• What credentials does he have; i.e. is he a member of the Federation of Master Builders (FMB)?
• Will he agree to independent arbitration if you end up in dispute?
• Will he accept a penalty clause if the work is not completed in time?

Good builders will be hard to get hold of because they will be busy so be prepared to wait. You can find professional builders and specialists in your area through the FMB at findabuilder.co.uk. FMB MaterBond members also meet TrustMark's government-endorsed standards on workmanship and service, offering up to ten year guarantees on their work. Don't pay cash in advance; reputable builders will be happy to take the money in stages and for you to keep 5% behind until the job is completed. Make sure your builder has a suitable waste strategy in place as this may save disputes with the neighbours later. It is also advisable to check on your building insurance to make sure that you're covered as well as letting the mortgage company know about your plans.