Attracting a sale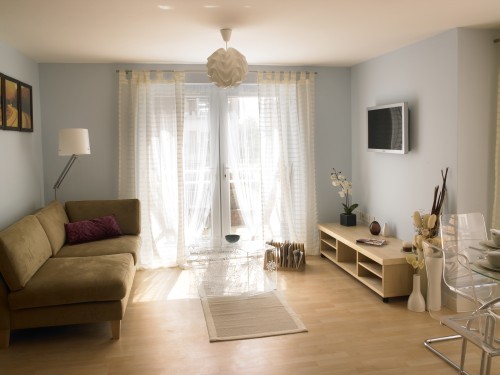 Find out the maximum potential value of your property. It's pointless spending £20,000 on improving a property if it will only add £10,000 to the sale price. Look at local property papers and visit estate agents to find out the asking price for similar properties on the same street.
The best time for selling is spring and autumn; the market slows down during late summer and over Christmas and New Year. If a property is sold while the market is buoyant, it's much more likely to attract the asking price.
Repairs and maintenance
Finish off small DIY jobs - touch up chipped woodwork and replace washers on dripping taps.
Before a buyer steps into a house, they will have already formed an impression. A well-kept garden, pathway and fence are immediately appealing.
Water can cause major problems in unwanted places. Check your roof and guttering, replace broken tiles and repair the lead flashing. It's worth casting an eye over the drains too. A drain cleared before a blockage occurs is easier on the nose and the wallet!
A regular lick of paint will keep a property looking good and keep deterioration at bay. A newly-painted front door with shiny brass fittings always creates a good impression. When selling, a surveyor will be able to spot if attempts at 'sprucing up' your property are simply quick fixes - he'll be much more impressed by ongoing maintenance.
Cutting the lawn can be a last-minute pick-me-up. Feeding it a couple of weeks beforehand will brighten it up and make it look healthy.
If your fitted kitchen units look tired, simply replace or paint and varnish the doors. This will be much cheaper than buying a totally new kitchen. If the units are in fairly good condition and only look dated, just replace the doorknobs, handles and taps. Another economical trick is to fit good solid worktops on to existing units.
Look and Feel
Paint walls - a pale, plain shade maximises the feeling of light and space and enables buyers to imagine their possessions in the property. Research shows that most buyers prefer natural, earthy colours to bright, bold shades. Although there's a wide range of paint colours available, magnolia is still the top-selling colour.
To prevent rooms looking too bland, use strong colours for accent walls or cushions and accessories.
De-personalise your rooms by removing personal items, such as family photographs and children's drawings, which may distract potential buyers. Buyers should be looking at the property not the owner's possessions, so hide these items until the property is sold. Removing clutter also makes it easier for buyers to imagine their own belongings in a room
Plant pots can provide colour in your garden. If you don't have the time to fill your own, you can always get some ready-made.
Flowers and a bowl of fruit will brighten up a room and provide a pleasant smell.
Organise rooms - a property will be more appealing if rooms have a specific purpose and this allows buyers to see the full potential of the property.
Revitalise a bathroom with a green leafy plant and new taps, shower curtain and light pull. All these items can be picked up cheaply from DIY warehouses.
Coloured bathroom suites are out and old-fashioned white is back in vogue. If you've got an avocado or pink bathroom, consider investing in a white suite. It will add value to your property.
Restoring fireplaces and period features, such as ceiling roses and cornices, can add thousands of pounds to a property. If you don't have a fireplace then a striking picture can work equally well. If you decide to install a fireplace, look for an original period grate and surround in reclamation yards.
Tips
Avoid strong food odours - don't cook food such as fish or curry before a viewing as the smell will linger. The smell of freshly-baked bread or fresh coffee though is said to provide a welcoming feel to a home.
Ask friends or family to look after any pets during viewings.
Try and make viewers feel comfortable. Offer them a coffee and ask them if they need any further information about bills or local amenities.